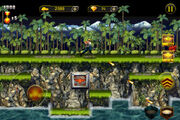 Contra Evolution is a remake of the original Contra first released on Chinese cellphones in 2010 and arcades in 2011 and later ported to the Android, IPhone, and IPad in 2013. This remake features two all new female characters, updated graphics, and bonus stages.
All stages in the game were HD remakes of original Contra and whole gameplay in general was quite similar to the original Contra. However, there were 4 different characters to choose from, as well as some in-app purchasable items.
Protagonists
Edit
Contra Evolution had 4 protagonists who player was able to play as:
Konami stopped supporting Contra Evolution in January 31st, 2015 and it is no longer available in app stores.
Ad blocker interference detected!
Wikia is a free-to-use site that makes money from advertising. We have a modified experience for viewers using ad blockers

Wikia is not accessible if you've made further modifications. Remove the custom ad blocker rule(s) and the page will load as expected.