Contents
Games
Featured article
Contra: Return is a free-to-play mobile game developed by Tencent Games and Konami. It was originally released on June 6, 2017 in China and later in Taiwan in 2018. An English version was released on September 20, 2018.
Featured video
Blogs
Create blog post
News
The wiki has new administration! Expect to see many changes on the site (if you haven't already), along with an overall improved organization, creation of wanted pages, higher quality images, strategies, lore information, and many things more!

Read more >

In order to hopefully jump start this Wiki and get more people interested in it, the Wikia Content Team has decided to freshen up the main page and the skin. We have also been working hard to create content.

Read more >
See more >
Featured media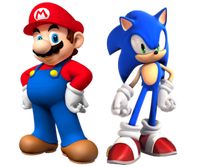 Platformer Games
Go to these sites for info or for help with your own wiki!
A Hat in Time • Azure Striker Gunvolt • Banjo-Kazooie • Bloodstained: Ritual of the Night • Broforce • Castlevania • Cave Story • Code: Hardcore • Conker • Contra • Crash Bandicoot • Croc • Cuphead • Donkey Kong • Drawn to Life • Epic Mickey • Ganbare Goemon • Geometry Dash • Jak and Daxter • Jazz Jackrabbit • Kirby • LittleBigPlanet • Mario • Mega Man • Metal Slug • Metroid • Oddworld • Ratchet & Clank • Rayman • Shantae (and WayForward games) • Shovel Knight • Sonic • Spyro the Dragon • Strider • Yooka-Laylee
Want your community included? See how!
See all of our Platformer gaming wikis!